So, you're a small 07 FFL and don't have the machines to make receivers in house. It's OK, we've all been there. You've probably already found out most medium and large manufacturers will do variance manufacturing, but they require minimum orders of 300 to 500 lowers per variance, and that prices a lot of us smaller 07 FFL's out of the market. That's where Freedom Forge Armory LLC can help you. We're a small 07 FFL 02 SOT, we specialize in small production runs, and we get it, you don't need 500 receivers right now. Freedom Forge Armory has the ability to cost effectively manufacture and mark AR style lower receivers for other 07 FFL's.
The Capability And Experience.
Freedom Forge Armory LLC has the capability to preform 07 FFL manufacturing variances. With several years of experience doing manual machining, and now having moved to CNC machining we can make receivers quickly and cost effectively. Freedom Forge Armory LLC has always been known for it's high standards of quality control and can ensure a high quality finished product, excellent communication, and exceptional service. Our background in the firearms manufacturing and defense industries gives us the knowledge and experience to produce exactly what you need to your specs.
What Is A Manufacturing Variance?
It's a special license from the BATFE to provide serialized firearms or receivers from one 07 FFL to another. A firearm variance permits an 07 FFL to sell a firearm with their own name and serial numbers, but it's produced by another 07 manufacturer.
How Do I Get A Manufacturing Variance?
Manufacturing variances are a very common industry practice, and are fairly easy to get, but there are some things you need to know before applying for a variance, so here's the legal stuff.
You have to have a type 07 FFL. Only type 07 FFL's can apply for variances. A type 01 dealer or type 02 pawnbroker can't apply for a variance, unless they also have an 07.
Plan ahead. A variance can take about 3-5 months to be approved by the BATFE. Production can't begin until the variance is approved.
You need to know what serial numbers and markings you want on the receivers.
You need to know how many receivers you want made per variance application.
We will handle filling out and submitting the variance application to the BATFE.
How Do We Manufacture Our Receivers?
Now that we've covered the legal stuff, Freedom Forge Armory LLC is capable of making forged and billet AR-15, AR-10, and AR-9 lower receivers. Here's our manufacturing process.
We primarily manufacture forged receivers, and we get our forged 80% raw aluminum blanks from a forge right here in Virginia, those include AR-15's, 10's and 9's. They are really well made and finish up nicely. We use 80% blanks because it cuts down manufacturing time significantly.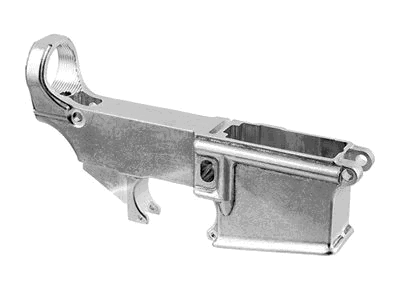 It's machined into an 80% lower.
We use a CNC machine to efficiently and accurately machine our lowers. From raw blank to a complete lower takes about 30 minutes in our machine.
We use the approved variance information to laser engrave the lowers to BATFE marking specs.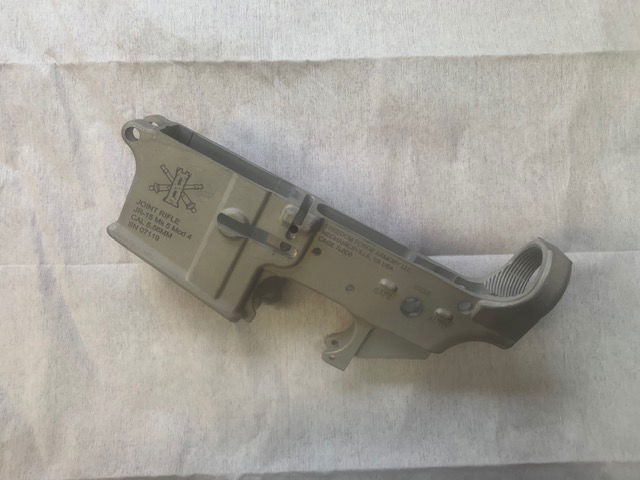 Completed lower laser engraved to BATFE specs.
We offer finishing prep and coating services using KG Gunkote, and the entire process is done right here at Freedom Forge Armory LLC.
Finished product
We can also laser engrave non-regulated lettering and symbols on lowers, including your brands logo.
Receiver Styles We Offer.
We offer several different styles of receivers for variance manufacturing.
AR-15 Forged Receiver FFAM6E. Sometimes referred to as "Mil-Spec" lower receivers. All forged lowers start as "receiver blanks" that are formed (forged) under high heat and pressure into the general shape of a lower. There are only a handful of companies in the USA that are responsible for producing the majority of receiver blanks, which are then milled into finished receivers. All forged AR-15 lowers are 7075-T6 aluminum. We can finish forged lowers with a AR-15 semi-auto fire control pocket or M4 full auto fire control pocket. Forged receivers are a great option for the budget minded manufacturer.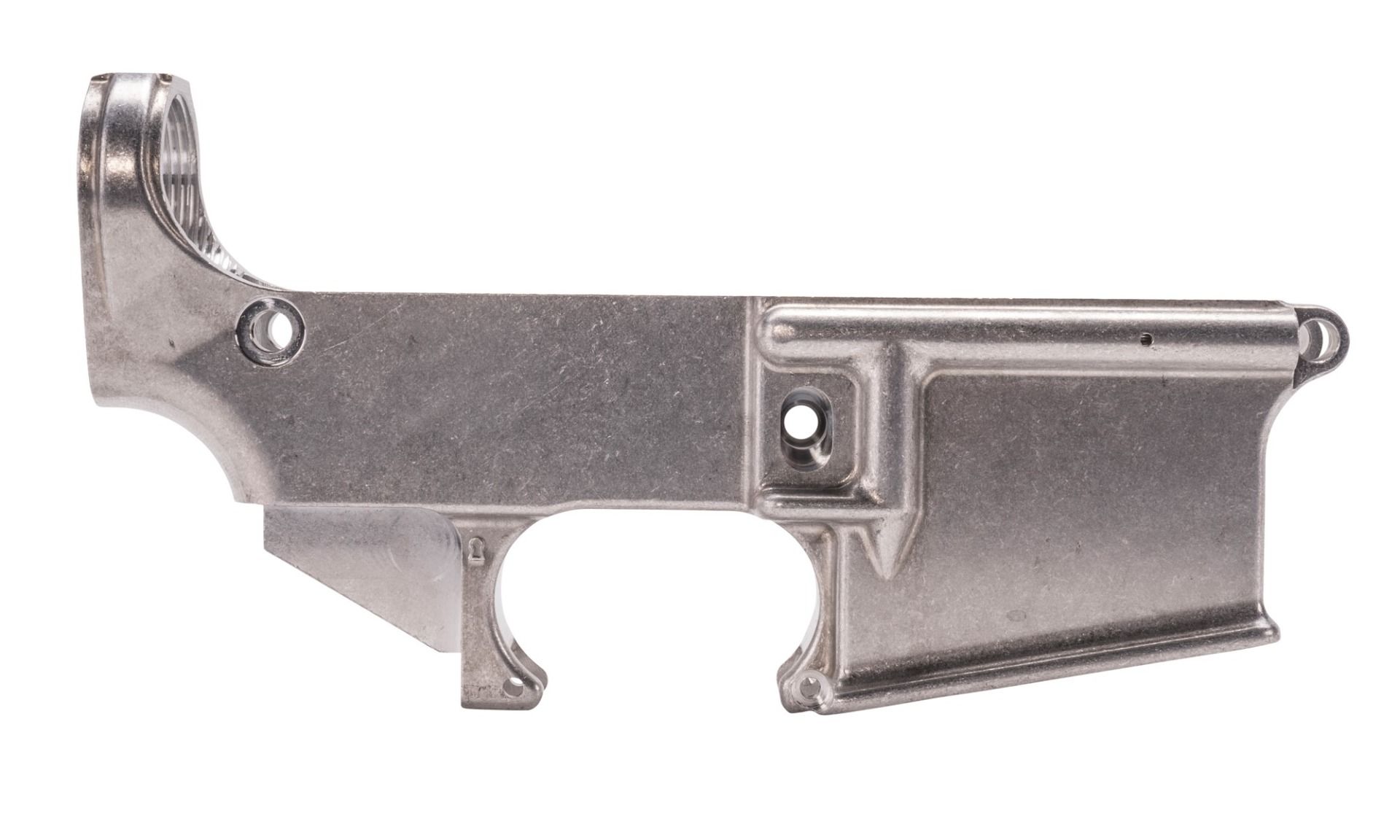 Freedom Forge Armory offers two different styles of Fire Control Group pockets for our M6E forged lower. A high shelf semi-auto standard AR15 style and a low shelf full auto M4 style.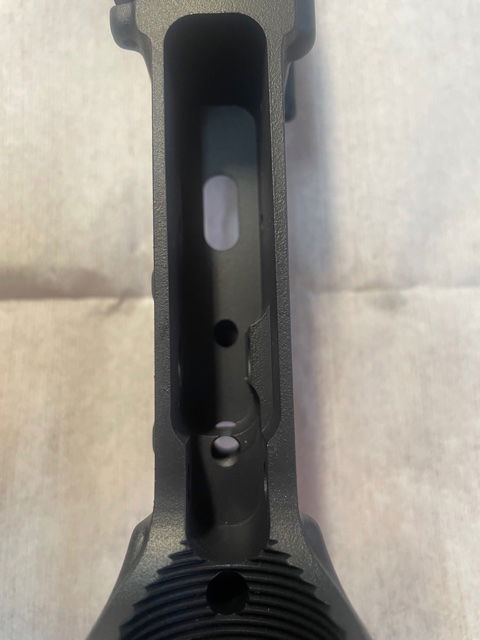 M4 low shelf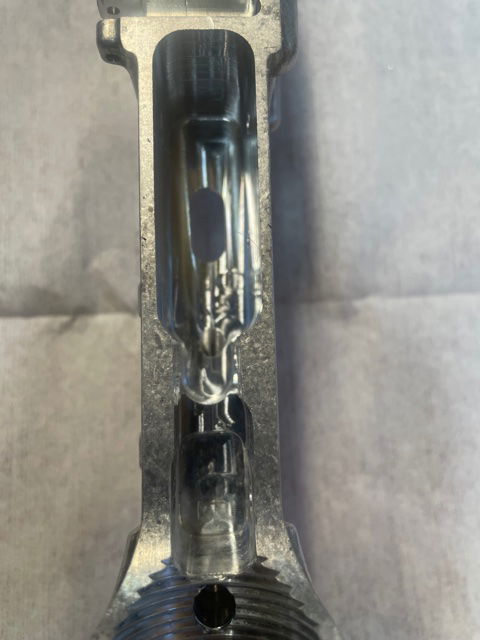 AR15 high shelf
AR-15 Billet Receiver NFB223. Billet receivers begin their lives as solid blocks of aluminum that are CNC machined from beginning to end, and take longer to manufacture due to the machining required. Our billet AR-15 lowers are 7075-T6 aluminum. We can finish billet lowers with a AR-15 semi-auto fire control pocket. Billet receivers look good with their clean sharp edges, but they cost more to manufacture due to the longer machining time required to make them.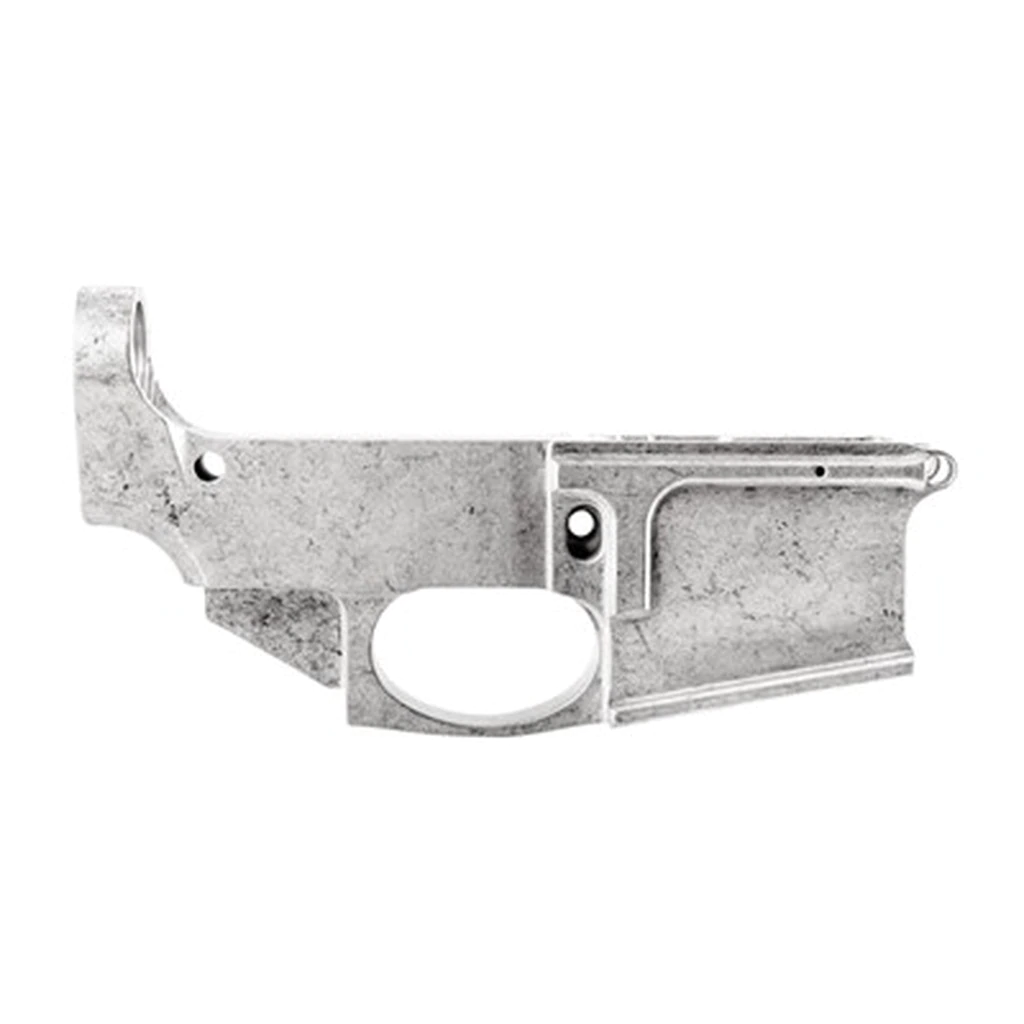 AR-10 Billet Receiver NFB308. Our .308 lower receivers are made to fit both the DPMS and SR-25 pattern magazines. The receivers carry some of the highest quality features on the market, including: heavy duty trigger guard machined into the lower, reinforced pivot pin and magazine well to aid in loading. They are made to DPMS Gen 1 pattern to work with as many manufacturers as possible. Our billet AR-10 lowers are made from 6061 aluminum and have a semi-auto fire control pocket.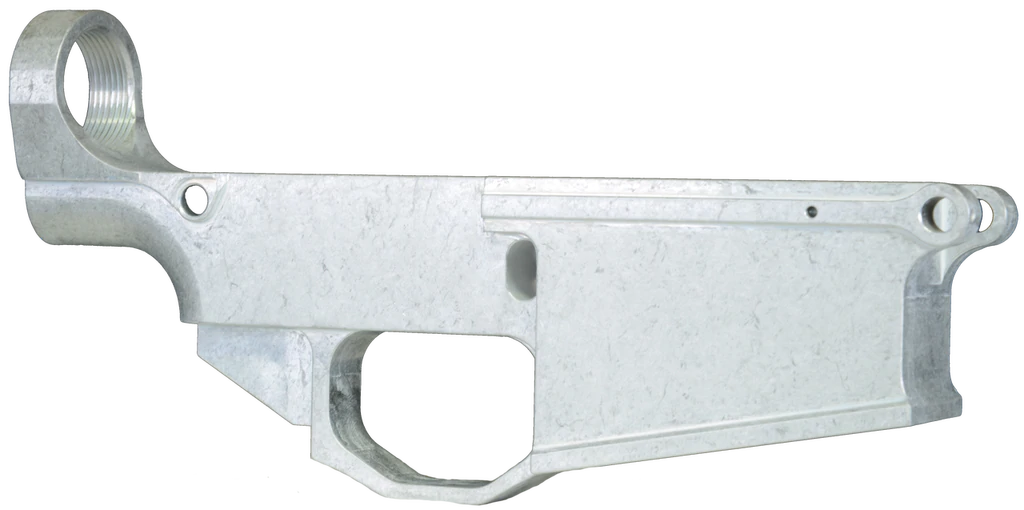 Freedom Forge Armory Quality Control.
CNC machining is a very fast and precise method for making parts to finished dimensions. The machine starts by locating the raw material in space in the X, Y, and Z axis based on the program it's set to run and the dimensions it's given. Once the machine knows where the raw material is it begins the cutting process. First, by quickly rough cutting, and then doing slower more precise finishing passes until the final dimensions are reached. This process is repeatable and allows for accuracy of +/- 0.001" of the programed dimensions and accuracy of +/- 0.005" between individual parts. There is almost no need to check for dimensional accuracy on finished parts, but we do.
Each finished receiver/frame is checked using a set of custom made gauges. For lower receivers we check the depth of the FCG pocket, the width of the FCG pocket, the width of the area for the rear take down pin, and the location and size of the hammer/trigger pins, and the selector. M1911 frames are checked on the frame rails and location and size of the pin holes.
We pull random samples from production and further check them using precision measuring instruments.
Any receiver or frame that is not within the tolerance specified is rejected and destroyed.
We only use cutting tools that are rated for CNC milling machines, and we get these directly from the manufacturer of our machine.
To ensure a consistent product we change out the cutting tools frequently. CNC machining is done at higher speeds. These higher speeds generate more heat and wear out the tools more quickly than traditional manual milling. On average the cutting tools are changed out after every 6 hours of run time. When the endmills and drill bits reach the end of their life they're thrown away to ensure they don't end up being used again.
Manufacturer markings are done in much the same way using a fiber optic laser engraver. BATFE minimum spec for marking of required information is 0.003". We go to a depth of 0.006" +/- 0.001". by going deeper, the markings stand out and don't disappear in the finish.
Finishing is done with coating products from KG Industries. Their products are chemical, impact, heat, and abrasion resistant, fully encapsulates the raw metal, and has self lubricating properties. KG Gunkote exceeds MIL-SPEC, ASTM D-1654-61, ASTM D-870-54 DI, FTM 151A, ASTM D3363, ASTM G85, and ASTM D3359.
By going above the industry standards of quality we can guaranty a consistent high quality product from run to run.
We can do variance manufacturing runs of 1 - 100 receivers at a time, and we are flexible if you need more than 100. We recommend getting a minimum of 5 per application due to the length of time it takes to get a variance approved by the BATFE.
*Due to the continued high demand for firearms and raw aluminum Freedom Forge Armory is having to source forged blanks from multiple foundries. While we will make every effort to ensure that your order is consistent in appearance there may be some slight variations in the external appearance of receivers.
---